Integrantes del CEVEO participaron del congreso ORCA goes Digital
Del 9 al 11 de Julio se realizó por primera vez de manera digital el congreso de la Organización Europea de Investigación en Caries (ORCA). En esa instancia se presentaron trabajos científicos del área de Cariología con amplia participación de integrantes del CEVEO y se discutieron los consensos de ORCA/EFCD sobre tratamiento de enfermedad de caries en niños, adultos y personas mayores. Además, la Dra. Karla Gambetta-Tessini se adjudicó la beca Travel Fellowship que entrega la misma organización.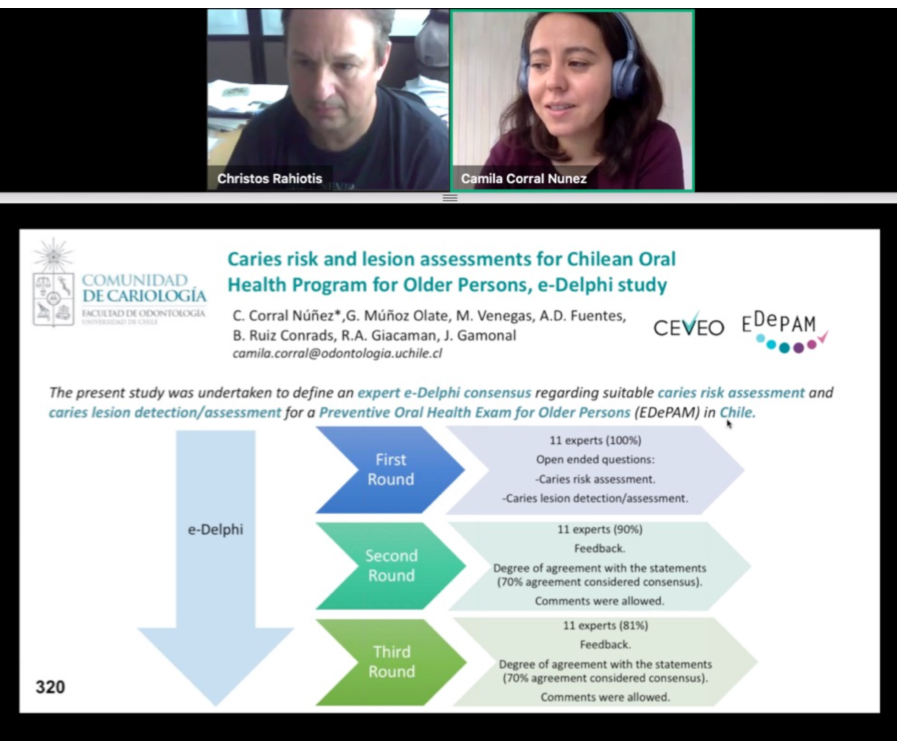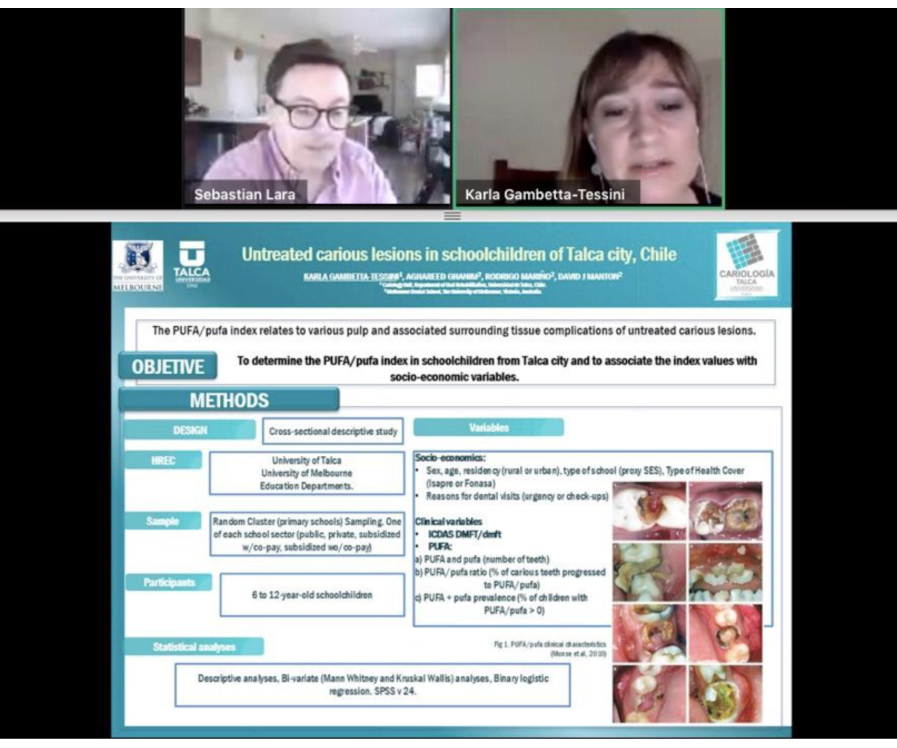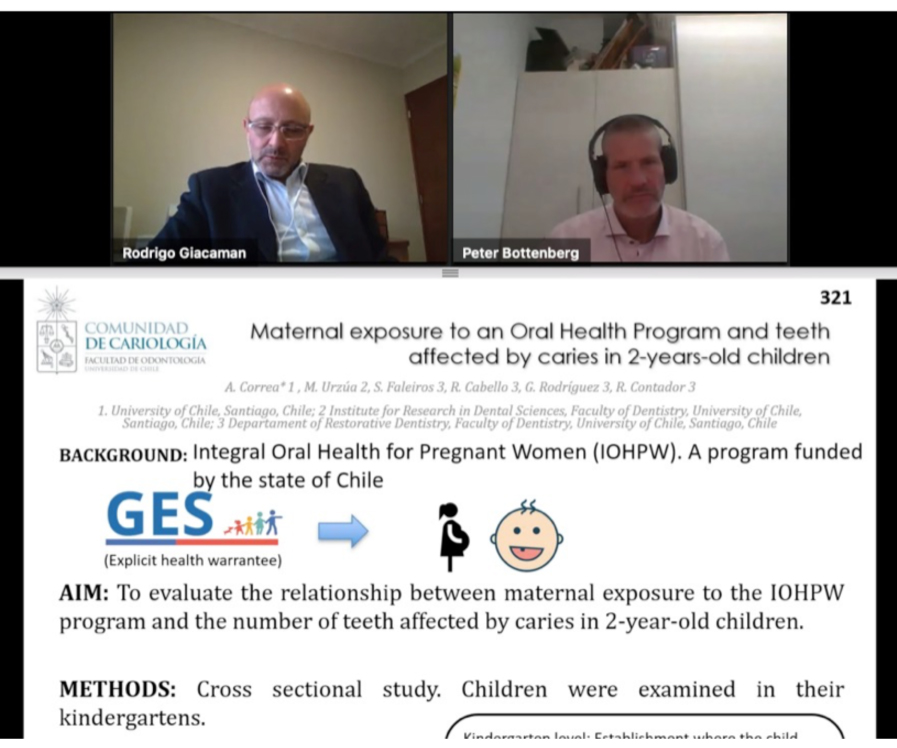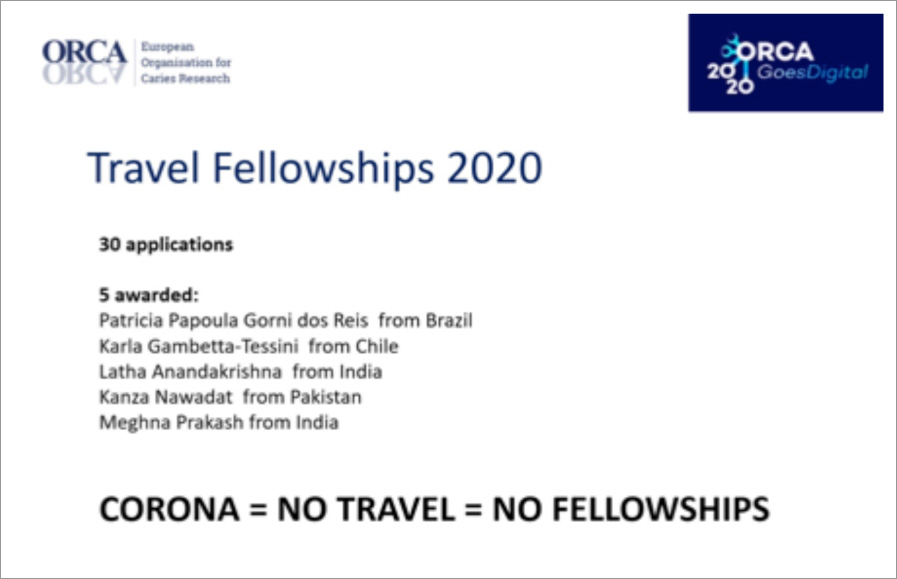 Entre los trabajos presentados se encuentran:
Caries risk and lesion assessments for Chilean Oral Health Program for Older Persons, e-Delphi study. Autores: C. Corral Núñez, G. Múñoz Olate, M. Venegas, A.D. Fuentes, B. Ruiz Conrads, R.A. Giacaman, J. Gamonal.
Sugary-snack consumption and its association with caries prevalence and severity in Chilean schoolchildren: Pilot study. Autores: B. Ruiz, F. Cancino, Y. Acevedo, P. Cisternas, C. Corral, R. Cabello.
Simultaneous exposure of sucrose and ovalbumin decreases sucrose-mediated cariogenicity of a S. mutans biofilm-caries model. Autores: C.E. Fernández, F.A Bustamante, N. Diaz-Garrido, R.A. Giacaman.
Untreated carious lesions in schoolchildren of Talca city, Chile. Autores: K. Gambetta-Tessini, A. Ghanim, R.J. Mariño, D.J. Manton.
Milk supplemented with egg ovalbumin inhibits sucrose-induced salivary and biofilm pH drop, in vivo. Autores: B. Díaz, J. Valenzuela, J.N. Botelho, R.A. Giacaman.
Maternal exposure to an Oral Health Program and teeth affected by caries in 2-years-old children. Autores: A. Correa, M. Urzúa, S. Faleiros, R. Cabello, G. Rodríguez, R. Contador.
Reactivity of commercial fluoride mouthrinses with carious enamel and dentine. Autores: A.C. Valdivia-Tapia, J.N. Botelho, C.P.M Tabchoury, A.P Ricomini-Filho, R.A. Giacaman, J.A. Cury.
Más información en: https://www.orca-caries-research.org/events/67th-orca-congress
Julio 2020